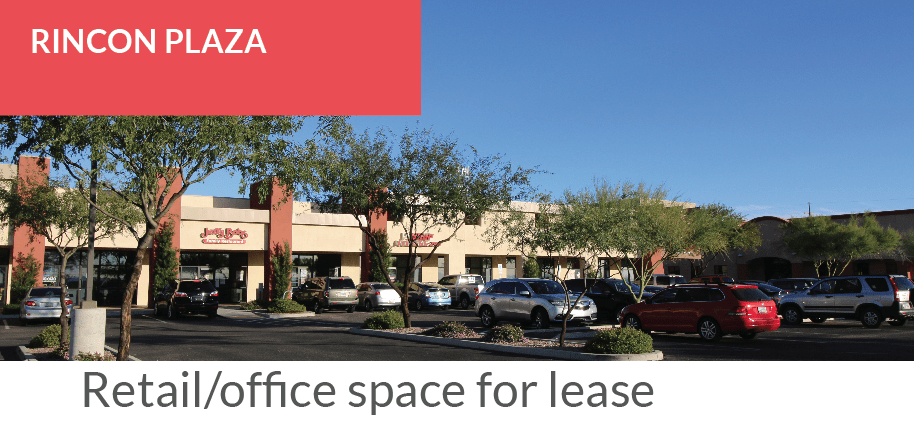 Excellent opportunity for retail users with high visibility, Retail Southeast Tucson, Rita Ranch and Vail areas
Lease rate: Starting at $22.00 NNN per sf per year
Space available:

2,473 Sq. Ft. – Unfinished Gray Shell Space

Zoning: C-2
AVAILABILITY AT THIS PROPERTY
---
7545 South Houghton Rd.
Lease rate: Starting at $22.00 NNN per SF per year
2,473 Sq. Ft. – Unfinished Gray Shell Space
Zoning: C-2
AREA DETAILS
---
The property consists of a multi-tenant retail building of approximately 19,600 SF located between a BRAKEMax facility and a Chuy's Restaurant.
Excellent opportunity for retail users with high visibility and access in the Southeast, Rita Ranch and Vail area.
High profile employers in the area include Raytheon, IBM, Target, Canon USA, Citigroup, Walmart, Fry's, The Veteran's Association (VA) and Davis Monthan Air Force Base.
Convenient Interstate-10 access via Houghton Road
Located within Vail School District, one of the highest performance school districts in Arizona.
HOUGHTON AREA MASTER PLAN
---
HAMP is the master plan for the 10,000 acre area where these properties are located. The "HAMP" provides a general master plan for how the area will be developed, as interest grows, the City of Tucson and the State Land Department develop Zoning criterium for portions of the HAMP. The latest is for 2,590 acres which is being called the Atterbury Trails Planned Community Development. Once approved by the Mayor and Council, real estate developers will be able to offer to purchase though a "bid" process, one of the "zoned areas".
As part of the HAMP, and the development of the "5,000 acres Rocking K Ranch", a new bridge is now under construction and will be a 5 minute drive to our properties, versus a minimum 30-45 minute drive without the bridge.
Read more and view the Master Plan HERE