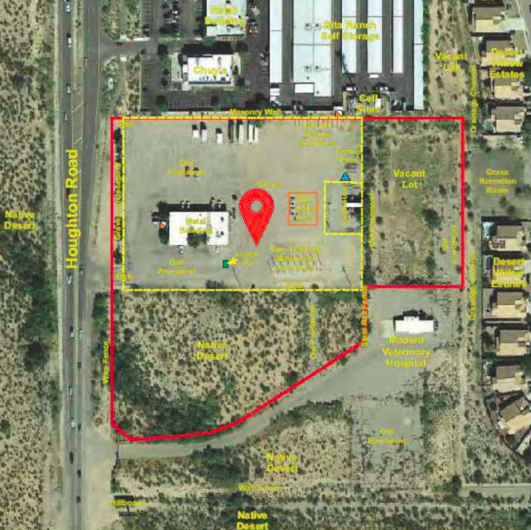 Commercial Space Houghton Road – Built to suit or Lease
Address: 7655 South Houghton Rd.,
Tucson AZ 85747
Purchase Price: $3,500,00
Property Size: Up to 8.9 acres
Zoning:  I-2. and rezoning for all or part is possible
Pads: Retail, Office or Industrial Pads are available
AREA DETAILS
---
Houghton land is located southeast at the intersection of Houghton Rd. and East Valencia Rd.
Excellent opportunity for office, medical, retail or industrial users with high visibility and access in the Southeast, Rita Ranch and Vail area.
Commercially I-2 zoned parcel and may be rezoned; other 3 corners are State Land.
High profile employers in the area include Raytheon, IBM, Target, Canon USA, Citigroup, Walmart, Fry's, The Veteran's Association (VA) and Davis Monthan Air Force Base.
Convenient Interstate-10 access via Houghton Road
Located within Vail School District, one of the highest performance school districts in Arizona.
Houghton Area Master Plan
---
HAMP is the master plan for the 10,000 acre area where these properties are located. The "HAMP" provides a general master plan for how the area will be developed, as interest grows, the City of Tucson and the State Land Department develop Zoning criterium for portions of the HAMP. The latest is for 2,590 acres which is being called the Atterbury Trails Planned Community Development. Once approved by the Mayor and Council, real estate developers will be able to offer to purchase one or more of the development areas through a "bid" process.
As part of the HAMP, and the development of the "5,000 acres Rocking K Ranch", a new bridge is now under construction and will be a 5 minute drive to our properties, versus a minimum 30-45 minute drive without the bridge.
Read more and view the Master Plan HERE