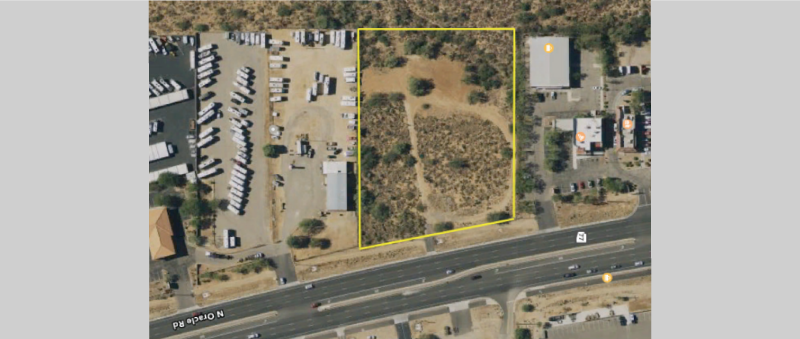 Property Details
Catalina, Arizona Property For Sale or Build-to-Suit
Address:15803 N. Oracle Road Catalina, Pima County, Arizona
Sale Price: $ 975,000.00 $6.99 sq/f
Lot Size: 3.20 acres approx. 139,392 square feet, with 337 feet of Frontage and a depth of 379 feet on the north property line and a depth of 448 feet on the south property line.
Location: 15803 N. Oracle Road, Catalina, Pima County, Arizona. West side of Oracle immediately north of the Ranchers Supply Store.
ZONING 
---
The parcel was the subject of a rezoning to CB-2 in 1989 under submitt al Co9-88-80 Landon – Oracle Road Rezoning. The rezoning expired prior to meeti ng the conditi ons of the rezoning case. The current zoning is GR-1, however, Pima County shows it as CB-2 in the current Zoning Plan. The property will need to go through a rezoning to achieve the CB-2 zoning.